Overview
AE77 is a sustainable premium denim brand. One that captures the style and soul of New York City and honors the purity and sanctity of the earth. AE77 brings an inspired collision of artistic vision and sustainable planet-first crafting.
The collection is artfully designed and sustainably crafted. All of it's fabrics are made from sustainable raw materials whenever possible, including organic, recycled, and sustainably sourced materials through the Better Cotton Initiative. AE77 exclusively uses Green Chemistry in it's denim production. This reduces the creation of hazardous substances commonly used in the washing of it's fabrics as well as the total resources (water, energy, chemicals, labor) being used.
AE77's signature denim fit is The Classic. Designed in New York and made from 100% Japanese selvedge denim. This universal fit is crafted to be worn and loved by all. It's cut with an easy fit through the thigh and a classic straight leg so it can fit loose and relaxed on him or be more fitted through the hip for her.
Denim
– Womens
– Mens
Womens
– Tops
– Jeans & Pants
– Dresses
– Accessories
Mens
– Tops
– Jeans & Pants
– Accessories
Store Locations :


AE77 SoHo, NYC
83 Spring St.
New York, NY
P/518.531.9003
HOURS:
Sunday, 12 – 5pm
Monday – Saturday, 11am – 6pm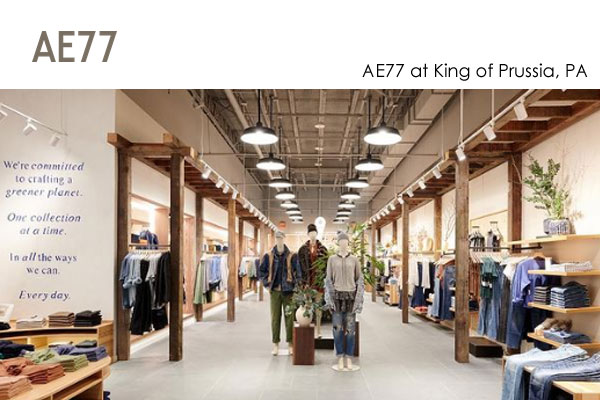 AE77 at King of Prussia, PA
King of Prussia Mall
160 N. Gulph Road, Suite 1210A
King of Prussia, PA
P/484.612.6476
HOURS:
Sunday, Noon – 6pm
Monday – Thursday, 11am – 8pm
Friday – Saturday, 10am – 9pm
Website :
Shop online at AE77denim.com
Visited 756 times, 3 Visits today