Overview
Bowery Kitchen Supplies – Professional Cooking Supplies and Equipment
Founded in 1975, Bowery Kitchen Supplies is a famous shop for restaurant and kitchen equipment, bar and deli equipment supplies, bakery equipments etc.
Products list :
Equipments : Cooking Refrigeration, Bakery Pizza Bar, Deli Catering, Gas and Electric cooking equipments.
Restaurants furniture
Cutlery & Cutlery Sets – different kinds of cutlery from around The World.
Tableware / Tabletops – Dinnerware, flatware, and glassware etc.
Bakeware & Baking Tools.
Cookware, Cookware sets etc.
Coffee, Tea & Espresso Appliances.
Bar Equipment & Bar Supplies.
Catering clothing and supplies, Knife Bags etc.
Kitchen Tools & Gadgets.
Cleaning Kitchen Appliances.
Services :
Business Hours :
Open to the Public 7 Days a Week.
Mon – Sat : 10:00 am – 8:00 pm
Sun : 10:00 am – 7:00 pm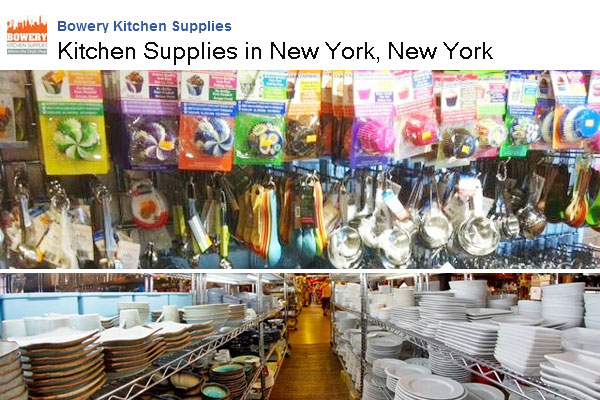 Address :
88 10th Ave, New York, NY 10011, United States.
Phone : +1 212-376-4982
Fax : 212-242-7360
2nd shop at The Chelsea Market Building
Bowery Kitchen Supply
75 Ninth Ave (Between 15th and 16th Streets),
New York, New York 10011
Chelsea Market hours : mon-sat : 7am-9pm / sun : 8am-8pm
Email : Bowerykitchen[at]mac.com / rogerbowery123[at]gmail.com **
Website : www.shopbowery.com
** replace [at] = @
Visited 4617 times, 1 Visit today