Overview
NYCity Matchmaking, LLC
Professional matchmaker New York. An upscale dating/relationship coaching and matchmaking service for singles in New York, New Jersey, Connecticut, Pennsylvania, Washington, D.C. and other select cities nationwide.
Services :
– Date Coaching
– Personalized Matchmaking
– Online Dating
– Consultation
– Special Services
NYCity Matchmaking is a member of
Matchmakers Alliance and
certified member of Matchmaking Institute.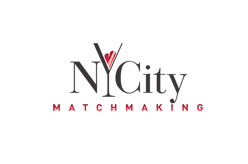 Address :
NYCity Matchmaking New York
116 West 23rd St., 5th Floor New York, NY 10011
Phone : 212.658.1599
Email : matchme[at]nycitymatchmaking.com
replace [at] = @
Website : www.NYCityMatchmaking.com | Facebook | Michelle Frankel-Matchmaker
Visited 546 times, 2 Visits today